Solutions
>
Portable Communication Power Amplifiers
Patrol-BJX Portable Communication Power Amplifier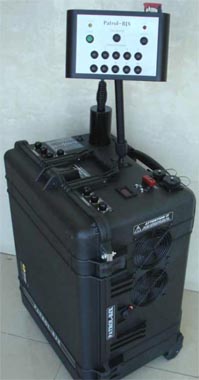 Patrol-BJX is a state-of-the-art, highly efficient high-power communications amplifier system. The system is constructed to transmit continuously and simultaneously on up to ten frequency channels from 25 MHz to 2500 MHz, which includes the frequencies used by most walkie-talkie radio devices, all cellular and Satellite/GPS receivers as well as WLAN, and has a total RF output power of 100 watts.
An operator's remote control unit provides full system control, cinluding a distinct ON/OFF function for each individual frequency band. A four-level potentiometer is provided for RF output power adjustment (for each frequency channel). The unit's "smart active" cooling system enables unlimited continuous use in challenging climatic and weather conditions.
The system features very easy mobility, installation and use.
Features
Ultra-high-power RF amplifier with VSWR and temperature self-protection technology
Extra high density FM continuous noise source
Low-loss RF diplexer/combiners
High-gain wideband external antenna solution for vehicle installation
Specially designed shockproof, vibration-proof and RF-shielded internal metal enclosure in a "Pelican 1620" trolley case form factor
Wired remote control unit with on/off function for each frequency independently
High-power and very high stability DC power supplies, including high-capacity internal batteries
Active smart cooling system
Specifications