Military Convoy Protection Jammers
SESP offers two versions of its "ready-to-drive" JAMX military convoy protection jamming system: one is delivered, fully installed, in a Hummer H2 and one in a military shelter.
JAM
X

MK4 Hummer H2
At a Glance
Ready-to-drive Hummer with integrated RCIED jamming system
Field-proven, fourth-generation system
Jams bands 20MHz – 3000MHz
1585 watts total RF output power
Powered by independent 10,000 watt AC generator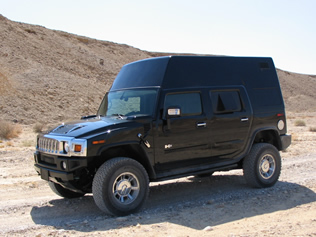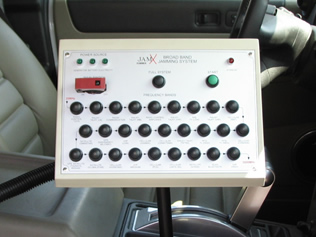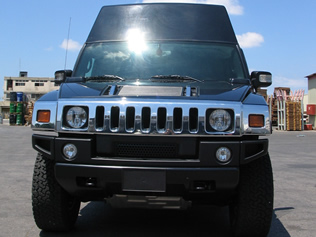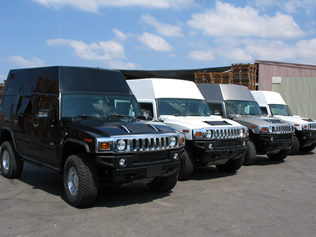 Although it looks like a normal Hummer traveling in the convoy, JAMX has been specially customized to accommodate a broad-band bomb jamming system which simultaneously covers the relevant bands of radio frequencies from 20MHz to 3000MHz. A set of high-gain omni-directional antennas – covertly located in a fiberglass roof extension – transmit the jamming signal up to a combined total output power of 1585 watts. The driver/operator may choose to jam or open each particular frequency band, as required.
This fourth-generation, turn-key solution contains its own independent 10,000-watt AC generator and an integrated "smart active" cooling system. Constructed in a completely covert manner with jamming units, all antennas, plus generator and battery back-up system hidden from view, JAMX is camouflaged to appear as a standard troop carrier.
JAMX is designed to ensure continuous effective jamming protection while in transit. The jamming system will operate continuously in all weather and road conditions.
JAMX is simply the best way to defend military convoys and troops from the threat of radio-activated, road-side bombs.
Key Features
An ultra-broadband vehicle-integrated jammer: 20MHz – 3000MHz
All frequency bands are jammed continuously and simultaneously
High-gain, omni-directional antennae, fully tuned and concealed inside an overhead compartment
Integrated independent high-power generator with silent operation
Integrated back-up battery system for continuous silent operation and fast start
Integrated independent "smart active" cooling system
Operator's remote control system, installed near the driver for easy access, provides on/off switching for each individual frequency band
Internal RF protection shielding for passenger safety
Video camera with LCD monitor provides rear viewing
Options
The vehicle can be supplied fully armored – up to level 6
Customer may select color of bodywork
JAM
X

Military Shelter
At a Glance
Covert full military design
Covers 20MHz – 3000MHz
Choice of independent power supplies
Over 2000 watts total RF output power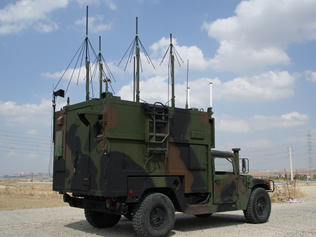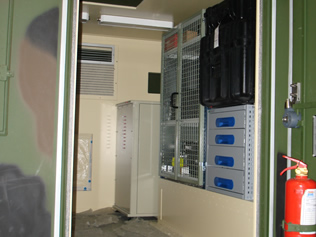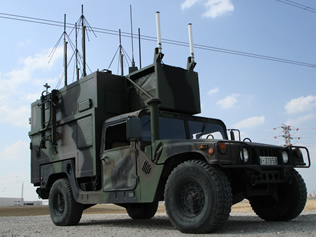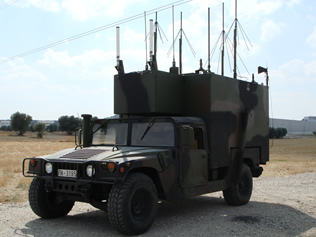 The JAMX system for Military Shelters covers continuously and simultaneously the full spectrum of RF communication frequencies from 20MHz to 3000MHz (33 separate frequency bands). The driver/operator may choose to leave certain communication links "open" when required.
The entire system is covertly installed inside an ambulance-type standard military shelter (M997). Careful design ensures that no parts of the system are left exposed, including all antennas, which are completely enclosed within the shelter.
This is a fully-independent jamming system, which can be installed on the standard HUMVEE military vehicle platform. The system is designed to enable rapid transfer/installation from one vehicle to another.
Shockproof and weatherproof, the JAMX system for Military Shelters works continuously while in transit in all weather and terrain conditions. JAMX is manufactured, assembled and installed to the highest standards of electronic and mechanical engineering to meet with Mil Spec standards.
System includes:
Jammer modules
High-gain omni-directional antennas
Choice of either a high-power internal AC generator or high-power DC alternator
Battery backup system
Wired remote control for complete system management
Smart active cooling system